SOUVENIR SCHOOL BOOKLET
BULLIS SCHOOL
_______________________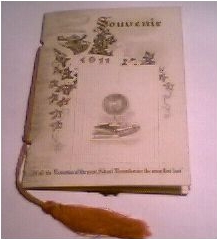 Page 1
Souvenir 1911
"Of all the Memories of the past
School Memories are the ones that last"

Page 2
(blank)

Page 3
MY PUPILS DEAR, THIS SOUVENIR SMALL,
TO YOU I DEDICATE,
IN MEM'RY OF YOU ONE AND ALL,
I TRIED TO EDUCATE.
IN MEM'RY TOO, OF PLEASANT DAYS
WE IN THE SCHOOL ROOM SPENT;
OUR STUDY HOURS, OUR SPORTS AND PLAYS,
WHICH SWEET ENJOYMENT LENT.
1911
Seibert Printing Co., Canal Dover, Ohio.

Page 4
(blank)

Page 5
BULLIS SCHOOL
Liberty Township, Penn.
GLADYS PEARLE GODING, Teacher
PUPILS
Harold Thorn
John McNally
Esther Anderson
Clifford DeKay
Herbery McNally
Zerell Olmstead
Ruth Taylor
Orville Burrows
Charlie Niles
Elmer Nelson
Beatrice Acre
Harold Fortner
Audra Evans
Lena Main
Linford Acre
Mabel Lindsay
Merrion VanGilder
Pearl Taylor
Walter Carlson
Truman Chase
Louise Westfall
Aneita McNally
Victor Chase
Ralph Bradley
Segred Anderson
Ellen Anderson
George McNally
Naomi Taylor
Lila Main
Jennie Nelson
Herman Lindsay
Maude Bradley
Burdette S. Bayle, Co. Supt.
SCHOOL BOARD
Fint Rifle, President
Charles Lilly, Treasurer
Isaac Baker, Secretary
A.L. Dunbar
O.C. Griffin
A.L. Eastwood

Page 6-8
THE CLOSE OF SCHOOL
"THE SCHOOL IS OUT! THE SCHOOL IS OUT!
THE SCHOOL IS OUT TO DAY!
THE SCHOOL IS OUT, THE SCHOLARS SHOUT,
AND NOW WE'LL REST AND PLAY."
WE'LL PUT OUR BOOKS AWHILE ASIDE,
ENJOY VACATION DAYS,
AND LET THE MOMENTS SWEETLY GLIDE
IN PLEASURE'S PLEASANT WAYS
I SEE THE TEACHER TAKE EACH HAND,
AND HEAR HER GENTLY SAY,
'I'M PROUD OF YOU, MY HAPPY BAND,
YOU'VE CHEERED MY HEART ALWAY."
"FOR TRUE HAS YOUR AFFECTION BEEN
AND HARD INDEED YOU'VE TRIED
TO OPEN UP AND LOOK WITHIN
THE BOOK OF KNOWLEDGE WIDE."
"I HOPE YOU'LL ALL REMEMBER WELL
THE LESSONS YOU'VE BEEN TAUGHT,
AND MAKE YOUR LIVES THEIR IMPRESS TELL,
AND LIVE THEM AS YOU OUGHT."
"AND OFT MY THOUGHTS WILL IN REVIEW
REVERT TO YOU AGAIN,
AND MUSE ON DAYS I SPENT WITH YOU,
YOUR KINDNESS TO ME THEN."
AND SADDENED EVERY HEART APPEARS
IN KNOWING THEY MUST PART;
AND TENDER EYES SUFFUSE WITH TEARS
AND WELL UP FROM THE HEART.
AND THEY AROUND THE TEACHER THRONG,
AND LOVINGLY EXPRESS
THEIR THANKS FOR HER DEVOTION STRONG,
HER LOVE AND TENDERNESS.
FOR WELL THEY KNOW HER PATIENCE LONG
HAS SOMETIMES SORE BEEN TRIED.
BY LEARNING SLOW OR DOING WRONG,
FOR WHICH SHE'D GENTLY CHIDE.
AND NOW THEY WISH VACATION DAYS
MAY BE TO HER A JOY;
THAT PLEASURE MAY IN MANY WAYS
BE HERS WITH ALLOY.
BUT NOW THE TIME HAS COME ABOUT
THE FAREWELL WORDS TO SAY,
THE SHADOWS FALL AND LENGTHEN OUT,
AND MARK DECLINING DAY.
"GOOD BY! GOOD BY! UNTIL WE MEET
WHEN SCHOOL BEGAINS AGAIN;
GOOD BY! THEY ONE ANOTHER GREET,
GOOD BY! GOOD BY! TILL THEN."

Page 9
(blank)

Page 10
Life is a School of Education,
Each day brings a new recitation;
Death ends with a long vacation,
Then comes the hard examination.
Page 11-12
(blank)